Welcome to Style diaries, a new series in which we examine the physical manifestations of our Closet Tours IRL. We ask friends and taste makers to show us what they * actually * wear during the week and give us a glimpse into their thoughts on the current state of fashion. This week we're talking to the creator of Style Is Style, Lydia Okello. You mix high and low fashion in a way that suits your wallet, and each ensemble is a lesson for the coolest emerging brands.
What is your style * actually * like at the moment?
"Ha! Maybe a charged question. I feel like given the potential of being out more often (thanks to the fact that more people are being vaccinated here in Vancouver), I need to rethink what I think of the 'real world' I have a healthy quotient from coordinating sweats and elastic waisted pants in my closet from last year … and I'm not ready to put on tough pants again. I am still looking for "boneless" clothing when I have to wearing more than one zoom look. Soft layers and oversized, breathable pieces are definitely good choices. But I'm still on my usual bold, bright, and mood-lifting shit. "
Day 1:
Photo: Courtesy of Lydia Okello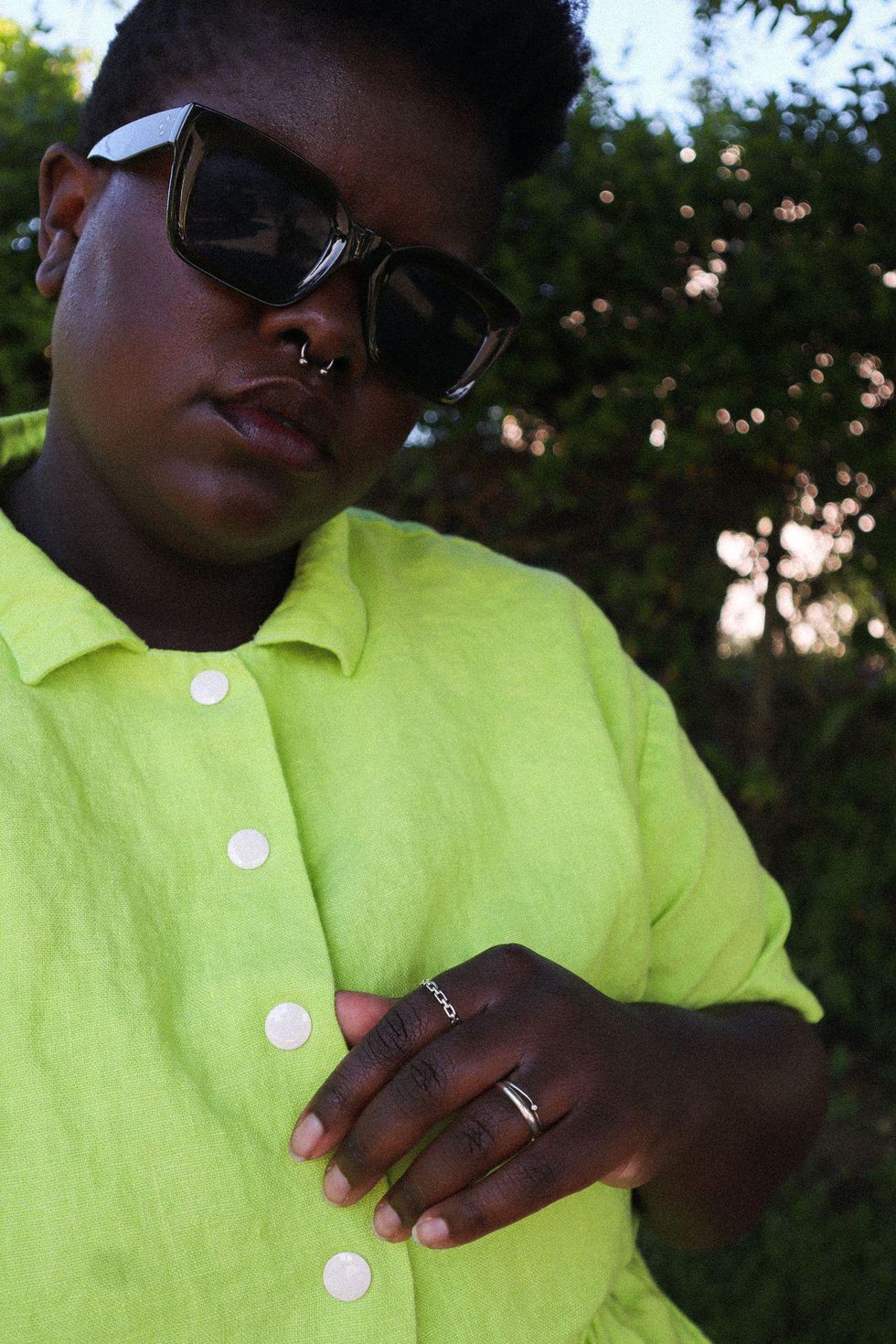 Photo: Courtesy of Lydia Okello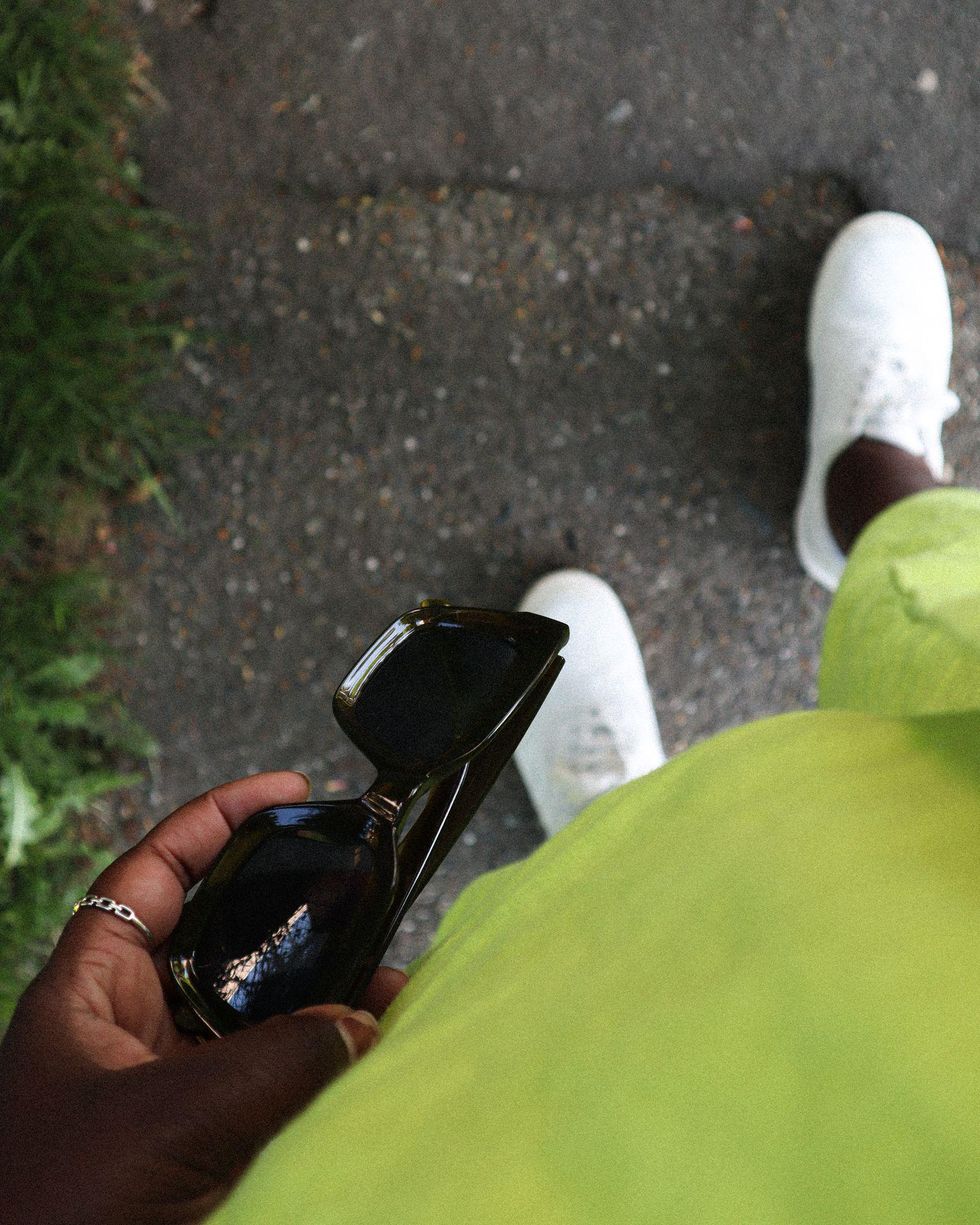 Photo: Courtesy of Lydia Okello
"Who doesn't love a one-and-do? This look is very, very comfortable. It also holds the record for most compliments when worn. I ran a few errands that day and felt like the happiest tennis ball on the die Nettle Studios are one of my favorite ethical companies – two friends from San Francisco who make fun, comfortable, flexible items. It's hard to resist having a full closet – their denim drop was so good this spring! "
Buy the look:
Do you have an outfit formula or do you prefer to switch it up as you get dressed?
"I do, but it might be hard to see because it's * literally * shirt, pants, maybe cute shoes. I would describe my style as a kind of maximalist minimalism. I love classic pants, collared shirts and other essentials for grandparents but I like to include them in bold colors and patterns. I think if you take a look I choose similar pieces over the years. The biggest change lately is that I'm really interested in loose fits shy away from volume because I thought it looked bad to me being short and oversized. Fortunately, I've learned that it absolutely is not. Kind reminder: WEAR WHAT YOU WANT TO WEAR! "
Day 2: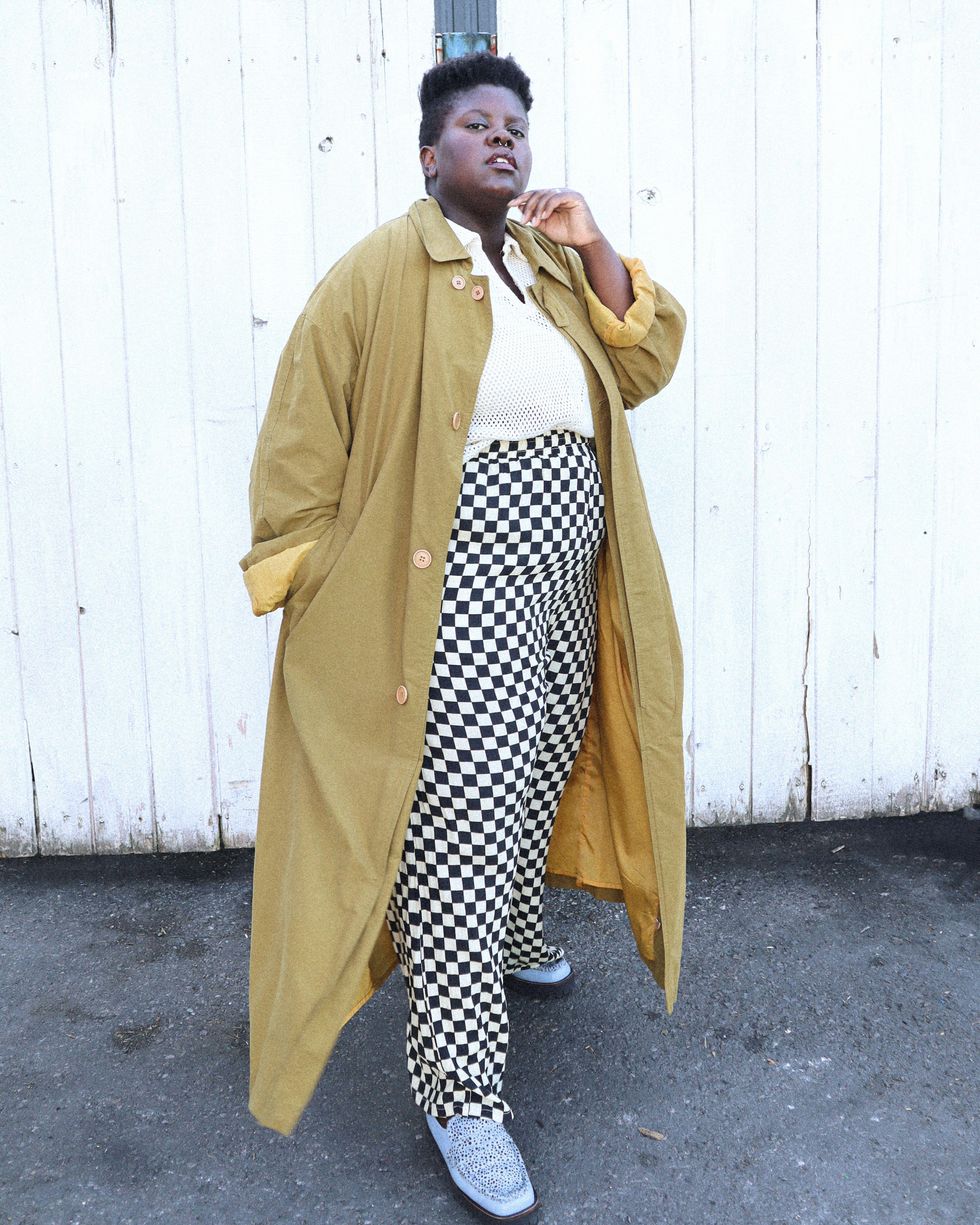 Photo: Courtesy of Lydia Okello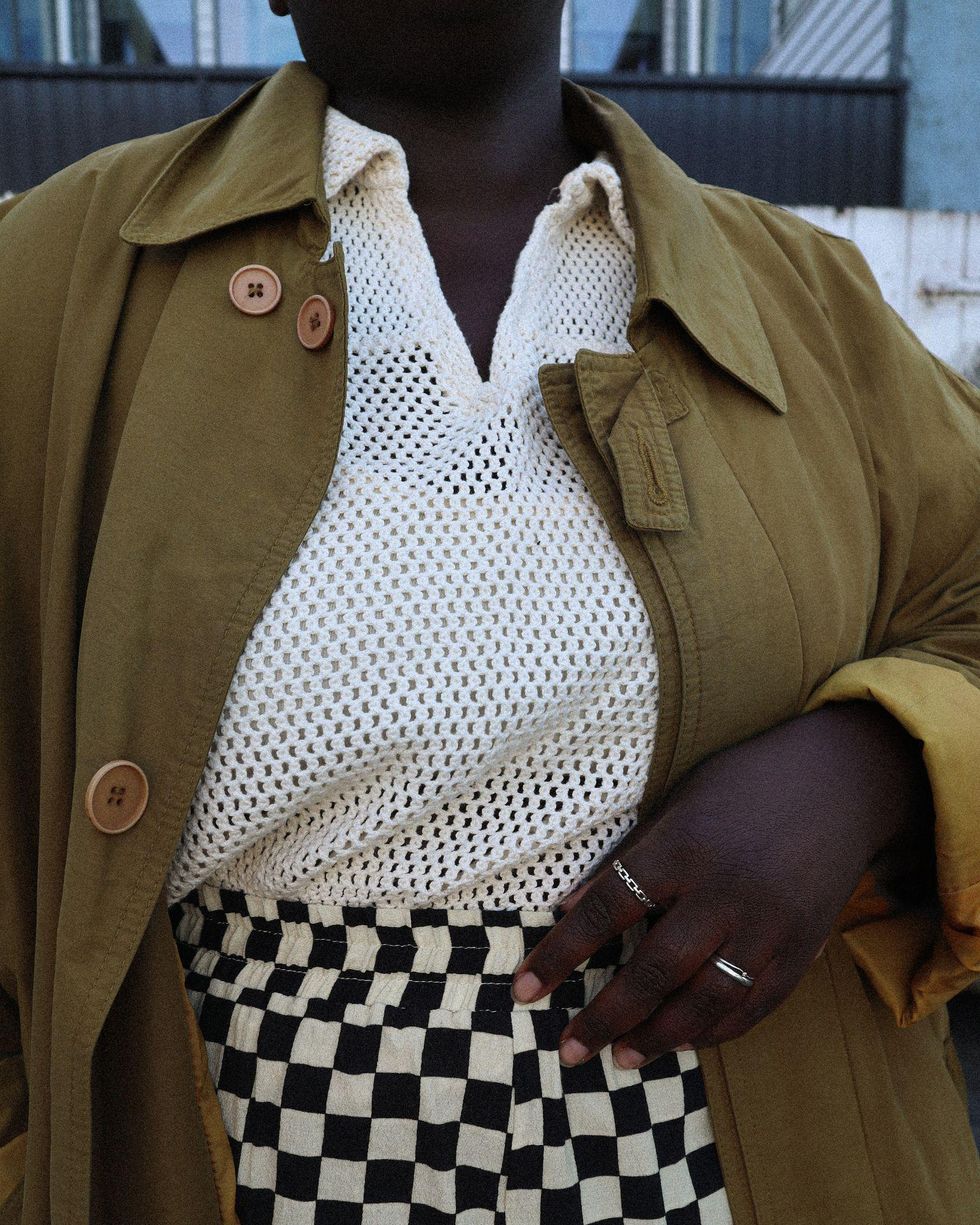 Photo: Courtesy of Lydia Okello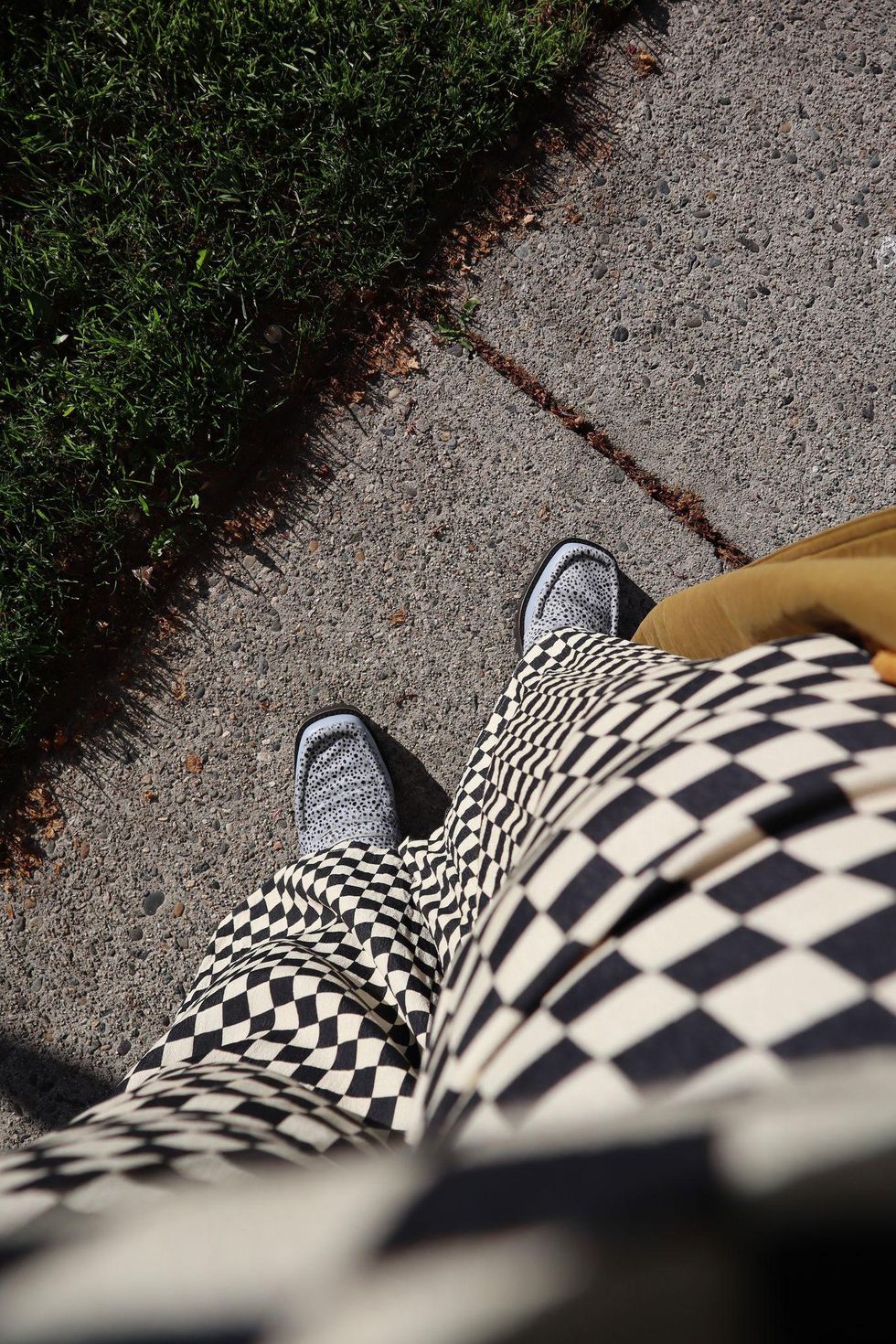 Photo: Courtesy of Lydia Okello
"This coat is one of my favorite thrift finds. It's the perfect weight for * slightly chilly * days in Vancouver. Plus, a yellow jacket lifts my spirits when it's not really summer yet. The crochet top is a favorite because it is Like not wearing a shirt And these Wray NYC diner check pants are basically pjs but have a certain wow factor, this soft and comfy look makes people think I had it together in these pandemic times. What is there not to love? And of course soft blue slippers from the shoe brand Intentionally Blank round off the grandpa atmosphere. "
Buy the look:
What kind of energy are you bringing to your ensembles this summer? What are you looking forward to?
"Since it's going to be a two-can summer, I'll lean into extravagant and maybe sexier looks. I still will be, but I love crop tops and I like more one-shoulder and tube tops. You might I find myself at brunch with an over-the-top jacket or extreme brights. I feel lighter and brighter. "
Day 3: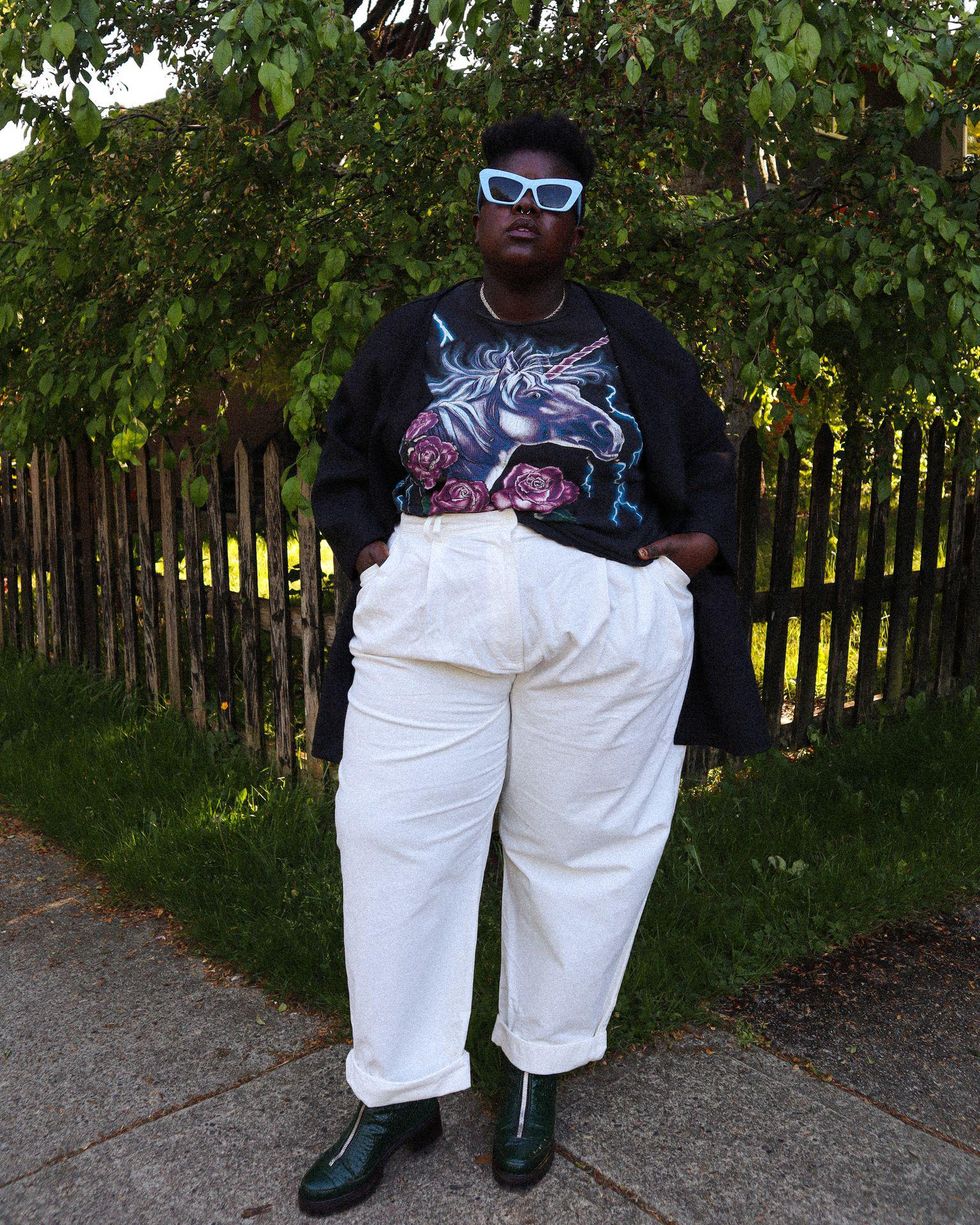 Photo: Courtesy of Lydia Okello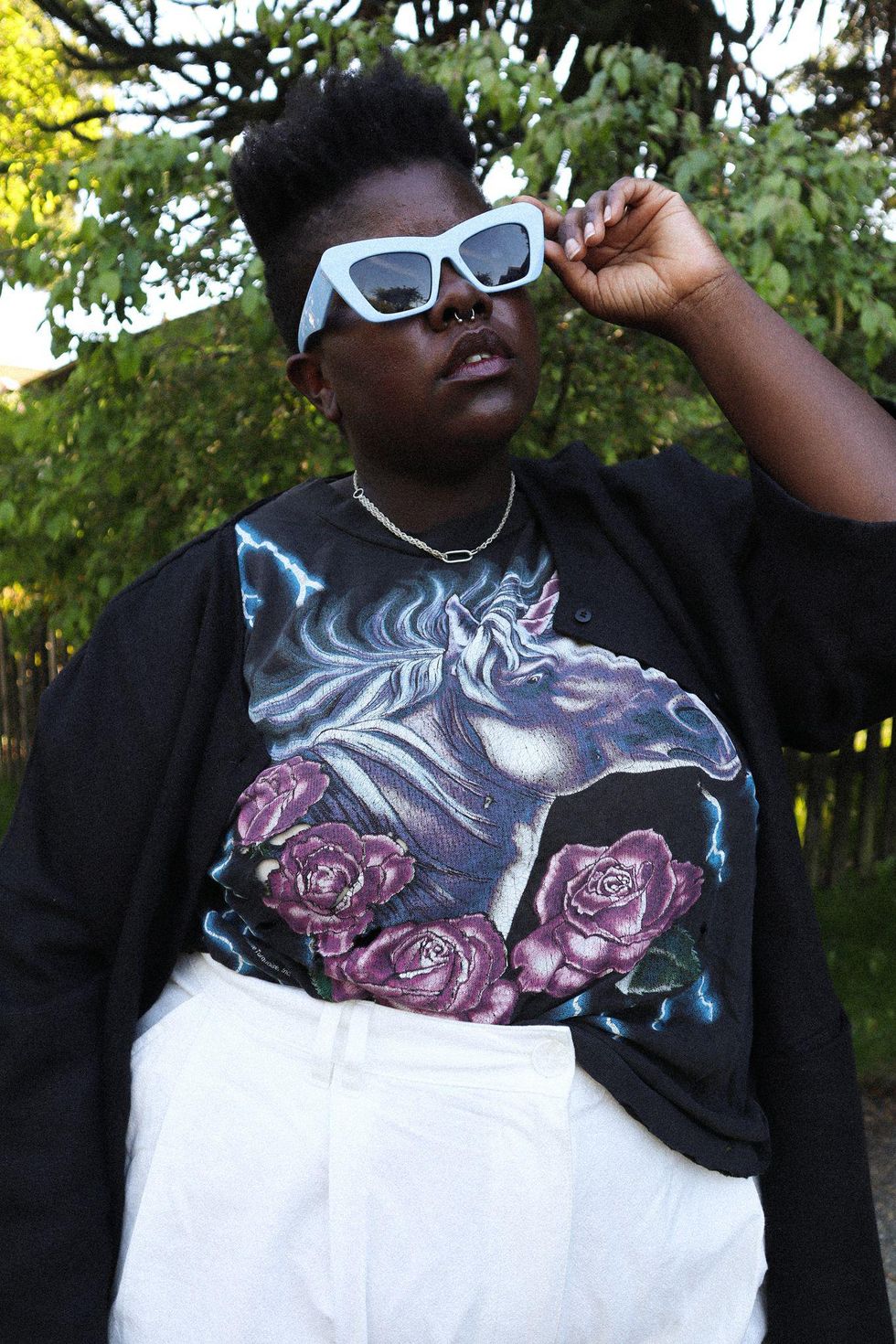 Photo: Courtesy of Lydia Okello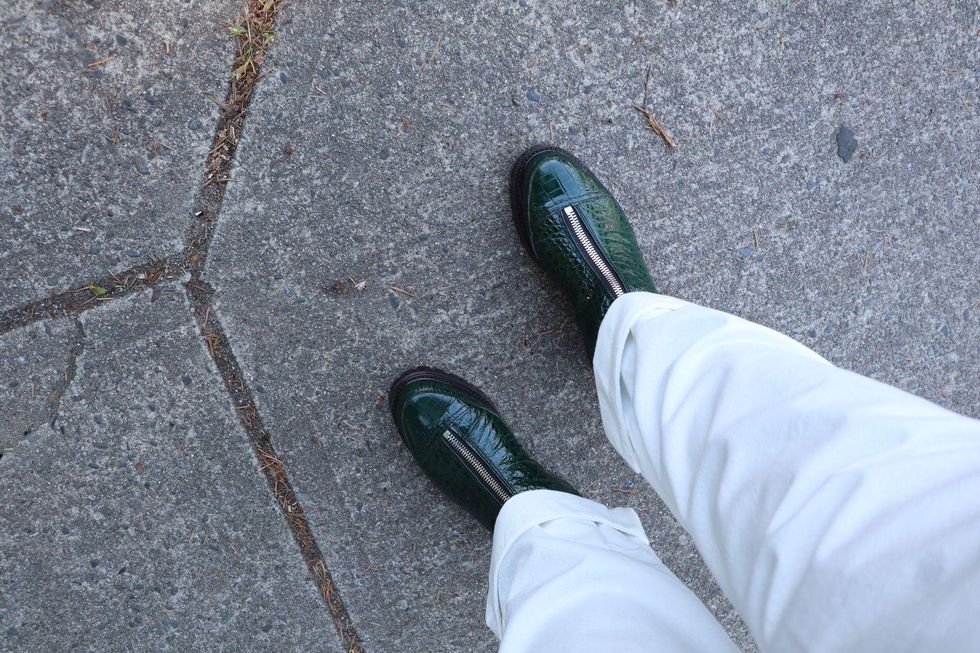 Photo: Courtesy of Lydia Okello
"I'm a sucker for crumbled, super-soft vintage t-shirts. This unicorn is a sibling of a panther motorcycle shirt I have. It's probably the two items that are desert islands to me. It took a while to make them and I love the intense graphics. They are so, so soft and fall apart completely … This look is very much * Default Lydia. * Simple pants, light T-shirt, one layer because I get cold (even in May) and some very special boots. I really love Nicole Saldana's design sensibility – each pair is nostalgic and unique, but somehow practical. I'm such a shoemaker that I was very excited to bring these up for sale late last fall is perfect and the texture is absolutely lovely. My layer is from a Canadian brand I work with a lot, Beaton Linen. Based in Lund, BC, they make easy-to-wear staples s here that have a nice usefulness i have a couple of pieces of them in rotation! "
Buy the look: